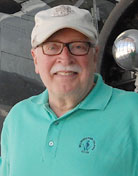 From starting as a promotion manager at a local NBC affiliate in the Midwest to founding a direct marketing business in New York City; from writing ads for business jets to creating innovative database-building relationship marketing programs for leading packaged goods companies; and from generating a million leads annually for a commission-only sales force to being called "one of the top direct marketers in the country" in the book Permission Marketing by Seth Godin, James D. Battin has pretty much done it all.
He is experienced in such diverse business categories as aviation and aerospace, financial services, telecommunications, fundraising, book clubs, mail-order, frequent flyer programs, school and office products, steel, food, and others.
He has created print and broadcast advertising, collateral material, powerful direct response efforts in all media, public relations campaigns, employee communications programs, speeches, newsletters, and editorial copy.
He has written about marketing topics and been a frequent speaker at industry events. And he is a licensed pilot, published travel photographer and does voice-overs.

Jim gratefully acknowledges the many talented art directors and designers with whom he has partnered over the years, notably Warren Kass and Richard Redmond (NYC), Marina Megaris (Chicago), and Kelly Applegate (Savannah). They've made his words work, as you will see in the samples presented on this site.
Download Jim's credentials brochure here: