Consultant, Writer Gives Back to Georgia Historical Society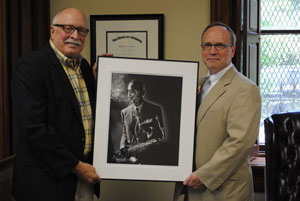 When marketing consultant, writer and creative director Jim Battin started a marketing communications business in Savannah in late 2006, one of the first organizations in the city to become a client was the Georgia Historical Society.
Seven years later, Battin has recognized the Society's support of his then fledgling enterprise with a gift of a museum-quality photographic print that combines Southern art, music and history, and is a noteworthy addition to the Society's already expansive collection of important African American papers, records and artifacts.
The subject of the 16x20-inch gelatin silver print, part of a limited edition printed, signed and numbered by the artist, Herman Leonard (1923-2010), is noted saxophonist and Savannah native, James Moody (1925-2010).
"We are grateful to Jim for allowing the Georgia Historical Society to keep and make this piece of Savannah and American history accessible for future generations," said Dr. W. Todd Groce, president and CEO of the Georgia Historical Society, in accepting the gift, "and it will have an honored place in our collection."
James Moody began his career with trumpeter Dizzy Gillespie shortly after World War II and maintained it well into the 21st century. He developed distinctive and fluent styles on both tenor and alto saxophone, and in the 50s became one of the first significant jazz flutists. He also had a small part in Clint Eastwood's film Midnight in Garden of Good and Evil, set in Savannah.
Herman Leonard is generally recognized as the foremost visual chronicler of the American jazz scene in the 1940s, 50s and 60s.
The Smithsonian claims 155 original Herman Leonard photographic prints in its permanent collection, where they are considered as essential to American music history as Benny Goodman's clarinet or Louis Armstrong's horn. Leonard's work is also represented in numerous public collections including, Jazz at Lincoln Center, NY, Ogden Museum of Southern Art, LA, and the George Eastman House, NY, as well as the private collections of Sir Elton John, Bruce Bernard, His Majesty King Bhumibol Adulyadej of Thailand, and President Bill Clinton.
From 2006 to 2011 Battin Corporate and Consumer Communications LLC contributed feature articles and editorial photographs, web site content, and wrote, directed and produced television public service announcements for the Society.
But the inspiration for the gift, purchased in 1990 at the Edelman Gallery in Chicago and now valued at $6,000, came about through a coincidence.
"I originally purchased the print, to me the most striking image in the exhibition, because the artist, Herman Leonard, studied photography at Ohio University in the late 40s, and I had studied photography there two decades later, in the late 60s. So it made a nice addition, with a personal connection, to a small but growing art collection," Battin says.
"This spring, 23 years later, I heard Stan Deaton, the Society's senior historian, do a Today in Georgia History feature on Moody on GPB radio. I really didn't know that I had something of importance to Savannah until that moment, and given my admiration for the great work the Historical Society does, I decided immediately that I'd make it a gift.
"I couldn't be more pleased that they have accepted it."